Getting Into Occupational Therapy? 7 Reasons to Become an OTA.
Getting into occupational therapy can be a significant time commitment. With St. Kate's 16-month OTA program, you'll be able to enter an in-demand field sooner than you may think. The occupational therapy assistant job outlook is bright, and becoming an OTA is a great way to break into the healthcare industry.
If you've considered becoming an occupational therapy assistant (OTA), you've probably wondered what the pros and cons of occupational therapy assistant training are. As with any profession, getting into occupational therapy has its rewards and challenges. A career as an OTA is a great way to step into the healthcare field and change lives. Rest assured that the occupational therapy assistant job outlook is bright.
For these reasons and more, it's a great decision to become an OTA through St. Kate's 16-month Online Occupational Therapy Assistant Program. Keep reading for seven reasons to become an OTA.
1. OTAs Change Lives
One of the great joys of being an OTA is seeing the difference you make in someone's life — and that's not something you can say for many jobs. While it's easy for many of us to take for granted the ability to do seemingly easy tasks, like opening a jar or getting dressed in the morning, for someone with a disability, regaining these abilities is life changing.
2. OTAs Treat People of All Ages
People sometimes tend to think of occupational therapy as being work-related only, but it's quite the opposite. Occupational therapists and occupational therapy assistants work with people of all ages and can help with a wide range of problems. Some see a variety of patients (typically referred to as clients) spanning the six practice areas of occupational therapy, and others specialize in specific fields.
For example, as an OTA you might:
Use games to help a child to overcome a developmental disability.
Help someone with limited mobility learn to use adaptive tools to regain the ability to cook.
Educate a stroke survivor on lifestyle changes that can minimize the risk of another stroke.
Recommend and implement home modifications that allow an elderly client to maintain independence.
3. Occupational Therapy Is a Creative Profession
Occupational therapists may be the ones who develop patient treatment plans, but that doesn't mean you'll be simply carrying out the OT's orders. Every patient is different. Adapting to each patient's ever-changing needs requires a degree of creativity. For example, you might devise a game to engage a child in therapy, or you may find a novel way of adapting a common household item for a patient who has poor grip strength. The sky is the limit when it comes to the work of OTAs.
4. OTAs Are in High Demand and Make a Comfortable Salary
Money should never be the only reason you choose a profession — especially one centered around helping others. Nonetheless, it's perfectly understandable to want a career that allows you to earn a healthy living.
According to the latest Bureau of Labor Statistics (BLS) data, as of May 2021, the median annual wage of OTAs was $61,520. However, more OTAs are needed. The BLS predicts that the number of practicing OTAs in the U.S. will grow 25% between 2021 and 2031, much faster than the average for all other occupations, and that's just over the short term. As more healthcare providers incorporate occupational therapy into patients' overall care and more insurers (including Medicare) increase coverage for occupational therapy, the demand will likely grow further.
5. You Can Graduate in as Few as 16 Months
With St. Kate's Online Occupational Therapy Assistant program, you can graduate in as few as 16 months, depending on whether you have previous post-secondary education experience. Through our mixed curriculum of online coursework, monthly skills labs and real-world fieldwork, you'll graduate with the skills and knowledge you need for professional practice. You'll also graduate ready to sit for the certification exam, thanks to our NBCOT Prep Coaching Program, which begins during semester three.
6. You Can Work in a Variety of Settings
OTAs don't just work in hospitals or rehab centers. Today, you will find OTAs in a variety of settings, including schools, community centers and individual homes. For this reason, we work hard at St. Kate's to provide our students with non-traditional lab work and fieldwork experiences — such as working with adults who have developmental disabilities.
7. Every Day as an OTA Will Be Different
No two days are the same in occupational therapy. Every client is different, with unique problems and goals. OTAs work with clients of all ages across six practice areas — from toddlers displaying early signs of cognitive delay and pre-school age children who lack the muscle coordination to use a pencil to working adults hoping to avoid overuse injuries or elderly patients with Alzheimer's disease.
"I like to joke that if you get bored as an occupational therapy practitioner, it's your fault," says Kristen Maisano, St. Kate's faculty member. "Your imagination is the limit, so you can't get bored. And you can reinvent your career whenever you want to. If you have the energy and desire to make the world a better place, you can be an OTA."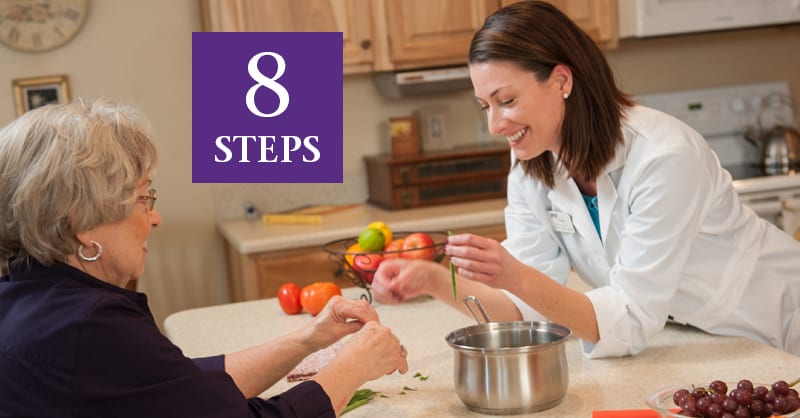 The sky is the limit when it comes to identifying creative solutions to the challenges your clients face.
Is OTA Your Path to Getting Into Occupational Therapy?
If you think becoming an OTA could be right for you, fill out our online form or give us a call today to find out whether St. Kate's Online OTA program could be your quickest path to a rewarding career in occupational therapy.